2010 Domaine La Tour Vieille Collioure Blanc "Canadells"

I only wish this wine was still carried by the U.S. importer as it is my second favorite white from the Banyuls-Collioure region. Honeysuckle, pear, orange blossom and honey, in this screaming for fish soup white.

2010 Saint Martin de La Garrigue
Rose

Perfect with peppers and cheese.



The dark pink rose is light on the palate and fruit forward to the taste. A hint of powdered sugar on the finish does not detract from the black raspberry and blackberry flavor. A yummy rose.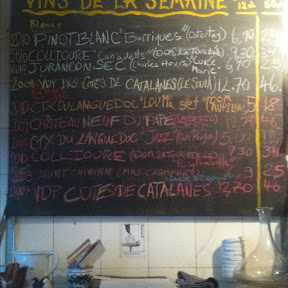 2010 Domaine d'Aupilhac Lou Maset VDP du Montpeyroux
Perhaps the most outperforming red of the day, I continue to be impressed by dear friend Sylvain Fadat!s ability to to deliver the 18 euro full price wine to the public as it weighs in so well by the glass at 5 euro. It is a
2010 Domaine Pujol Jazz Coteaux du Languedoc
The entry level Pujol is a spicy red with a meaty texture. Stunning bouquet of black cherries and blackberries. This is an easy to drink red perfect for burgers and pizza.
2009 Mas Champart Causse du Bousquet
Always pleasing this wine was surprisingly "light"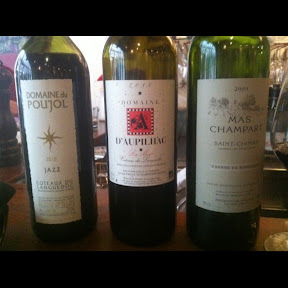 2010 Domaine La Tour Vieille Puig Ambille
Give this wine five years. Great balance and elegance.
2007 La Soula by Gauby
The nose says sweet. The palate is dry. Awesome wine with rich and concentrated fruit that's layered like berry crumble.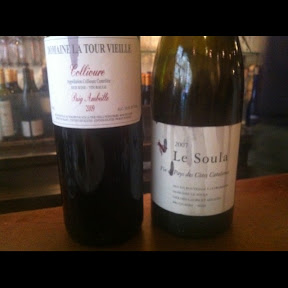 Location:Rue de Seine,Paris,France